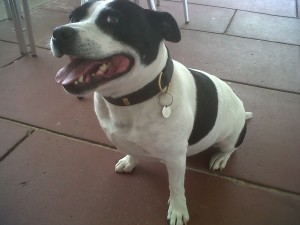 We love dogs at Sara's Tearooms, especially when we get to come out, say "Hi" and give them a Sara's Tearooms welcome too.
Well behaved dogs welcome
…as we have plenty of places to get refreshed and have a rest from all the fun of the Great Yarmouth seafront and dog friendly, South Beach. The best places for dogs are in our beautiful Flower Gardens seating area or on our Beach Terrace, which is right next to the beach with some lovely sea views.
Obviously, the weather sometimes does hinder sitting outside, and on these occasions the best behaved dogs (leads are essential) are welcome to come inside and sit quietly under one of our many tables.
Free fresh water available for all dogs
Sometimes, we will have a bowl or two of water already out and ready for dogs to keep refreshed, but we prefer to offer a fresh bowl of free water for dogs, as we know that they don't really want to share it! All you need to do is ask, and we will prepare a fresh bowl.
Will your dog become a star and be featured as our Dog of the Day board? Visit Sara's Tearooms with your dog and ask a member of our team about your dog being featured.