There is something special about eating and drinking outside, hence we have a large amount of seating available in our two alfresco dining areas.  These are our award winning Flower Gardens and our Beach Terrace area…
Flower Gardens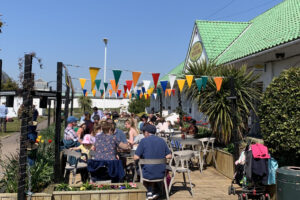 Our award winning Flower Garden seating area is located on the west side of our building within the grounds of the Pleasure Beach Gardens. As you would expect by its name, you can take a seat at one of our picnic style tables, relax and enjoy your food surrounded by lots of beautiful flowers, shrubs and plants.
Our Flower Garden is not a covered area, so it is a great place to catch the sun whilst enjoying some of Sara's delicious Homemade food and cake.  For those that want to sit outside but in the shade we do have a number of large umbrellas on a few of our Flower Garden tables, alternatively our Beach Terrace area has a number of tables in the shade also.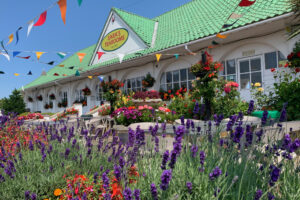 Over the years our Flower Garden has grown and expanded, and we do have to take a lot of care and attention to keeping it nice.  This has been shown by the continual feedback we receive from our customers and the many Gold and Overall Winner Awards we have received from the Great Yarmouth in Bloom competition.  We hope you enjoy and appreciate our Flower Garden area when visiting Sara's Tearooms.
Smoking is allowed in our Flower Garden area.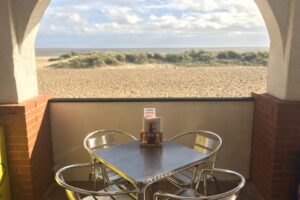 Beach Terrace
If you are looking to eat whilst still enjoying some of the best sea and beach views in Great Yarmouth then why not take a seat at one of our Beach Terrace Tables. In addition to the views across the golden sands to the sea and beyond to the off-shore wind farm at Scroby Sands, you will also be able to relax amongst beautiful flowers in hanging baskets and planters.  For the younger ones (or the big kids) there is also step access to the beach, so you can still eat & relax whilst watching the children play on the sand.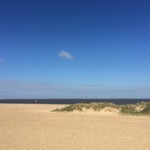 Most of our Beach Terrace area is covered, so if it does rain you should be able to continue eating without getting wet.
Smoking is allowed on our Beach Terrace.